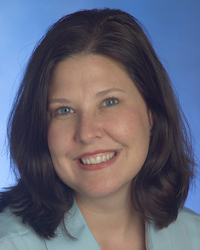 Amy Cole, D.O.
My specialty is Diagnostic Radiology and my sub-specialty training is in Women's Imaging. In simple terms, it means I am trained to work in all aspects of radiology, but have extra concentrated training in ultrasound of the whole body. In particular I have expertise in breast and pelvic ultrasound, mammography, breast MRI interpretation, and performing breast biopsies.
I chose Women's Imaging as a sub specialty for a number of reasons. I enjoy the technical aspects of interpreting images, and also like that my work aids clinicians in making sound treatment decisions for their patients. Best of all, I am able to see my own patients when they need an ultrasound or a biopsy. My intention is to be more than just a name listed at the bottom of your x-ray report.
I chose Kaiser Permanente for many reasons, after talking with many of the current members of the medical group. Most importantly for me it was because of their overall job satisfaction and genuine concern for their patients. The various specialties, from Dermatology to Pediatrics to Occupational Medicine, work as part of a larger team with a common goal, without internal competition. This is actually a place, as the commercial says, "Where doctors can be doctors."
On A Personal Note I spend my free time with my husband and two small boys. Sometimes that means collecting insects, since my husband and I both have a master's of science degree in Entomology (bug science).
Medical Education Des Moines University Osteopathic Medical Center, Des Moines, IA
Residency Grandview Hospital and Medical Center, Dayton, OH Fellowship UC San Francisco, San Francisco, CA
Board certification Diagnostic Radiology, American Osteopathic Board of Radiology Affiliations