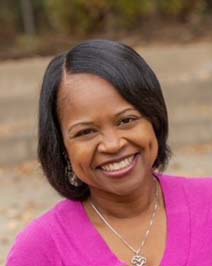 Aviance Rhome-Boroff, PsyD
 
Dr. Aviance Rhome-Boroff is a licensed clinical psychologist currently practicing in the Kaiser Permanente Richmond Adult Psychiatry Department and has a private practice in the Bay Area. In the fall of 2022, she joined the KPSAHS MSC program as an adjunct faculty member.
Dr. Rhome-Boroff has extensive experience working with adults, couples, and families, as well as facilitating groups and providing supervision. She is certified in perinatal mental health and specializes in identity development, life transitions, strengths-based interventions and multicultural therapy. Dr. Rhome-Boroff is also trained in Dialectical Behavioral Therapy (DBT), trauma-focused therapy, crisis intervention, and is a certified prenatal and postnatal yoga instructor. She is the co-leader of Affirmations for Your Ancestors (AFYA), a clinical, program development, and affinity space within the department of psychiatry Richmond to support Black clinicians as they serve patients in the African Diaspora.
Dr. Rhome-Boroff completed her pre-doctoral training at UCLA Counseling and Psychological Services where she provided individual and group therapy and community outreach. Her post-doctoral training was completed at Kaiser Permanente, Richmond, Adult Services. Dr. Rhome-Boroff has trained at Alameda Family Services, Family Institute of Pinole and Richmond, Contra Costa County Sexual Assault Prevention, Options Substance Abuse Clinic and San Francisco City College Health Center. She has a strong commitment to evidence-based care, community service, improving access to care and reducing mental health stigma in diverse populations. Dr. Rhome-Boroff is committed to integrating the social, cultural and spiritual context of each individual so that each person is validated in their unique experience in therapy.
Dr. Rhome-Boroff received her BA in Psychology from Mills College in Oakland. She completed a Masters in Counseling Psychology and a doctorate in Clinical Psychology at the Wright Institute in Berkeley. Before attending graduate school, Dr. Rhome-Boroff worked as a performer educator with Kaiser Permanente's Educational Theater (KPET) and has served as a trainer and risk assessment consultant for the KPET program.
Dr. Rhome-Boroff's current clinical and professional interests include training and mentorship of mental health providers, trauma-informed care and perinatal mental health in BIPOC communities.