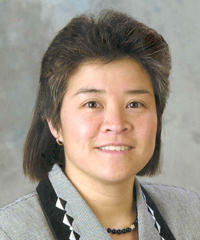 Valerie KwaiBen, M.D.
My clinical specialty is general cardiology, with special interest in echocardiography, transesophageal echocardiography and skilled in invasive cardiology. Currently, I am the Chief of Cardiology and the Director of the Echocardiography Department at Kaiser Permanente San Jose Medical Center. I am also President of the Bay Area Society of Echocardiography and Assistant Director of the Kaiser School of Allied Sciences. I am board-certified in Cardiology and currently hold fellowships in the American College of Cardiology (FACC), the American College of Physicians (FACP) as well as the American Society of Echocardiography (FASE) and I hold memberships in the American Heart Association and Santa Clara Medical Association.
Delivery of care should be what is medically necessary and patients should be allowed to actively participate in the decision-making of their medical illness evaluation and treatment strategies. I believe delivery of patient care should equate to what and how you would treat your own family member or how you would want to be treated by the medical system. The key to understanding your medical issues is education.
I have been working for The Permanente Medical Group since 1991. In addition to my clinical office practice, I am also involved in performing a variety of procedures, including transesophageal echocardiograms, stress echoes, cardioversions and cardiac catheterization procedures. I am also the Chief of Cardiology and the Co-Chair of the Physician Satisfaction and Wellness Group.
Medical Education Medical College of Wisconsin, Milwaukee, WI

Internship Kaiser Permanente Medical Center, Santa Clara, CA

Residency Kaiser Permanente Medical Center, Santa Clara, CA

Fellowship California Pacific Medical Center, San Francisco, CA

Board certification Cardiovascular Disease, American Board of Internal Medicine